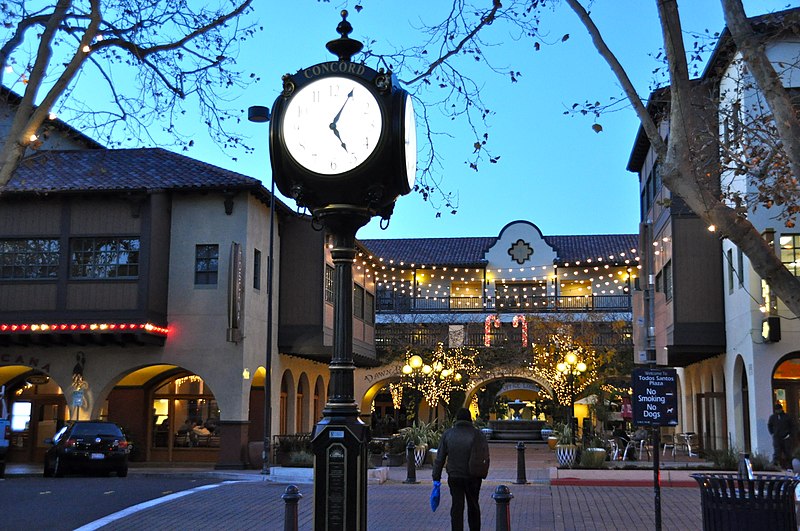 Todos Santos Plaza
The largest city in Contra Costa County, Concord has a population of 122,067, making it the eighth largest city in the San Francisco Bay area.  Concord is 29 miles northeast of San Francisco with a total area of 30.5 square miles. Concord is bordered by Pleasant Hill and the unincorporated community of Pacheco on the west, Walnut Creek on the south, Clayton to the southeast,, and Pittsburg, the unincorporated community of Bay Point to the northeast, and the unincorporated community of Clyde to the north. Although it shares no border with Concord, Martinez, the county seat, is located almost  ajacent to Concord to the northwest.
Concord was founded in 1869 as the community of Todos Santos by Salvio Pacheco. The name was changed to Concord several months later. However, the focal point of downtown Concord is Todos Santos Plaza which is known for its famers market, free summer concerts and restaurants. Downtown redevelopment has resulted in high-density apartments and condominium projects to take advantage of the proximity to public tranportation. To the north and east of downtown is the older residential area of Concord. 
Concord has a Mediterranean climate with hot summers and cool, wet winters. In the 19th century, the area saw an influx of residents from the Pacheo area who relocated to Concord to avoid the devastation of fire and flood. The area around Concord in the Ygnacio and Clayton valleys was primarily agricultural with crops including grapes, walnuts, almonds and wheat.  The area to the east, now the site of the concord Naval Weapons Station, was the site of large wheat ranches stretching across some 5,000 acres. Over the last 40 years, Concord served as a bedroom community for San Francisco and Oakland. However, in the last decade jobs within the city have increased with companies suchas Chevron and Bank of America establishing extensive back-office operations there. 
The Mount Diablo Unified School District serves the city and includes the Mt. Diablo High School which opened in 1901 and currently is home to four academies.  Concord, the hometown of famed jazz muscian Dave Brubeck, also is home to the annual Concord Jazz Festival. The city also is known for th 18-time World Champion Blue Devils Drum and Bugle Corps.