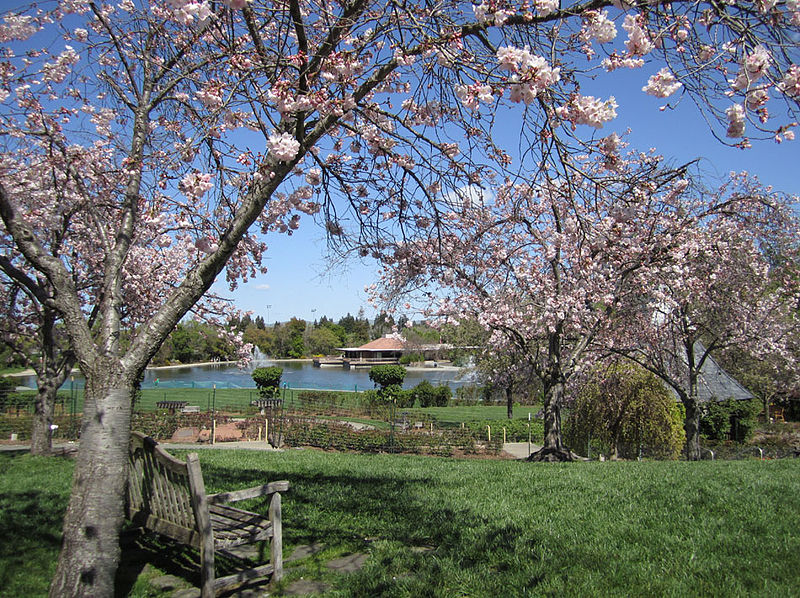 Heather Farms Park
Walnut Creek, a city on Contra Costa County, is located in the San Francisco East Bay area. With a total estimated population of 67,673, the City of Walnut Creek serves as a hub for its neighboring cities because of its location at the junction of highways from Sacramento and San Jose (I-680) and San Francisco/Oakland (SR-24) as well as its accessibility to BART (Bay Area Rapid Transit).  Walnut Creek's downtown features hundred-year-old buildings alongside high-end retail shopping, restaurants and restaurants. 
Three bands of Bay Miwok Indians lived in the area: the Sacian, Volvon,/Bolbon and Tactan. Today's Walnut Creek is within the site of four Mexican land grants. One of these, measuring some 18,000 acres, belonged to Juana Sanchez de Pacheco who eventually passed the land down to her two grandsons.  Ygnacio Sibrian, one of her grandsons, created the first roofed home in the valley in 1850. His grant, called Rancho Arroyo de las Nueces y Bolbones was named after the pricipal waterway, Arroyo de las Nueces (Walnut Creek) and the local band of Indians.  After the Mexican-American War, the first settlement began at what is now the intersection of Mt. Diablo Boulevard and North Main Street. Walnut Creek began to grow with the arrival of the Southern Pacific Railroad service in 1891. The town was incorporated in 1914 and the railroad passed through the city uintil the lat 1970s. It's right of way is now the East Bay Regional Park District's Iron Horse Trail used for hiking and biking. Today, BART serves the area with a station adjacent to I-680.  The city's population surged again after the opening in 1951 of the downtown Broadway Shopping Center (now Broadway Plaza), the county's first major retail center. 
Walnut Creek owns more open space per capita thany any other community in California. In 1974, voters approved a $6.7 million bond measure that allowed the city to purchase 1,800 acres of undeveloped hillsides, ridge lines and park space. Dominating Walnut Creek and the surround areas is Mount Diablo, which stands lone on the edge of California's great Central Valley. Adjacent to Walnut Creek to the west, Mount Diablo, with an elevation of 3,40 feet, is a 20,000-acre park operating by the East Bay Regional Park District. The district also operates Castle Rock Regional Recreation Area, also in Walnut Creek. 
Walnut Creek's Mediterranan climate is typical of the state's interior valleys with warm, dry summers and wet, cool winters. The climate allows for the cultivation of diverse plants and crops, being warm enough for citrus yet cold enough for apples. The Ruth Bancroft Garden is a renowned botanical garden that showcases this diversity. 
The Walnut Creek School District includes five elementary schools and one middle school. Public high school students are served by Las Lomas High School, Acalanes Center for Independent Studies, and Northgate High School.