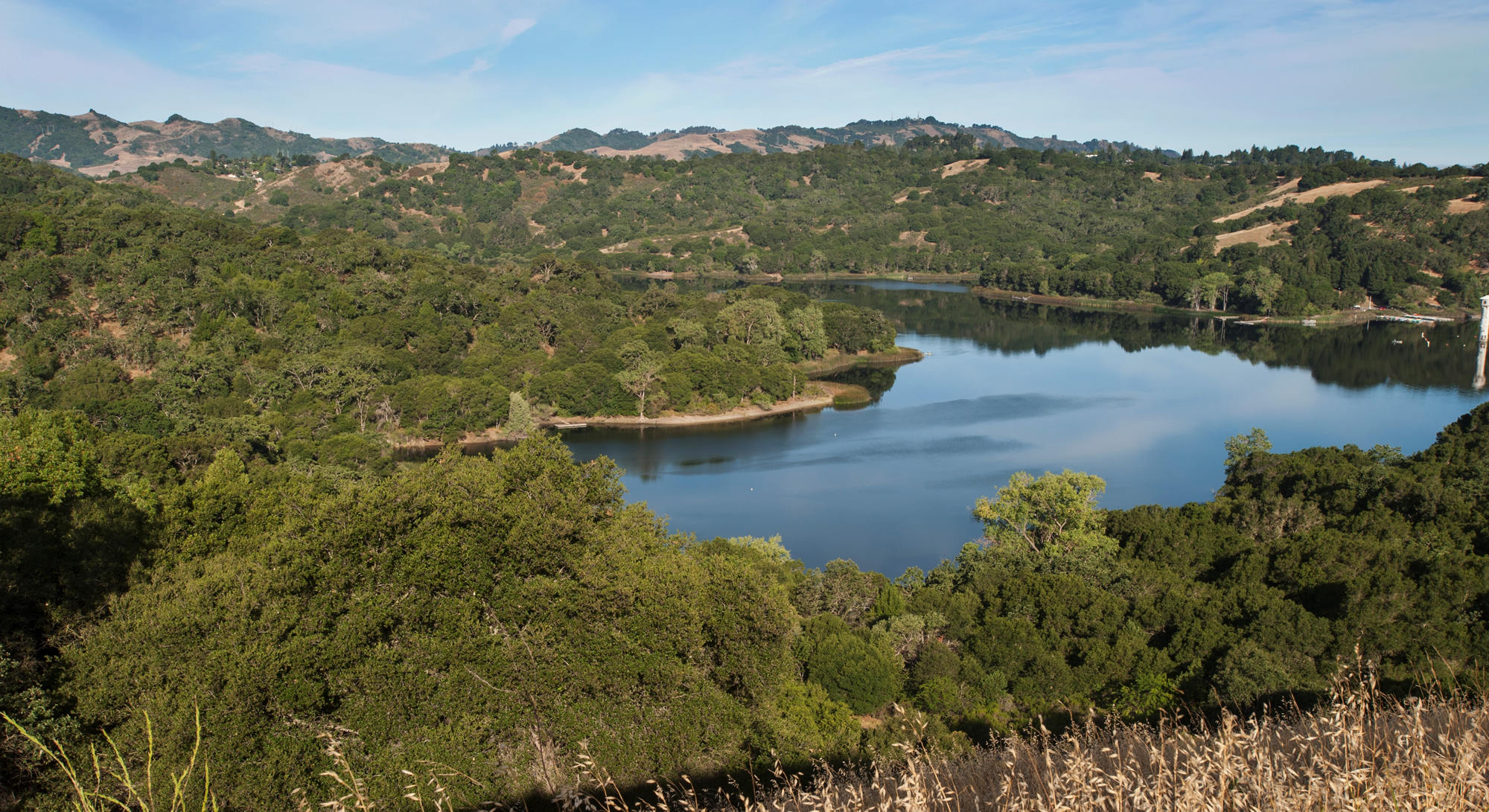 The Lafayette Reservoir
The City of Lafayette, with its rolling hills and good schools, was named after the Marquis de la Fayette, a French military hero of the American Revolutionary War. The last census in 2011 showed that Lafayette, located in Contra Costa County, had a population of 24,285. It's estimated median household income of more than $120,000 is more than double the statewide average.
Before Spain colonized the region, the Lafayette area was largely inhabited by the Saclan tribe of the Bay Miwok native Americans.  The indigenous inhabitants' first contact with Europeans was in the late 18th century with the founding of the Catholic missions.  Most of what is currently Lafayette was given as a Mexican land grant, Rancho Acalanes, to Candelario Valencia in 1834. The name Acalanes most likely was derived from the name of a native village known as Ahala-n.  In 1848 Elam Brown from St. Joseph, MO, purchased Rancho Acalanes. Brown started a mill and the community began to grow with the post office created in 1857. During the mid-1900s, Lafayette was transformed from an agricultural village into a commuter town and was incorporated in 1968. 
Lafayette, with a total area of 15.4 square miles, is part of the greater San Francisco Bay Area and, together with the neighboring towns of Moraga and Orinda, is known collectively as Lamorinda. Lafayette is separated from Berkeley and Oakland to the west by the Berkeley Hills. To the east is Walnut Creek and Mt. Diablo. Similar to the rest of the bay area, Lafayette has a Mediterranean climate, although the differences can be striking during the summer. Temperatures in Lafayette can run in excess of 100 degrees at times while it can be 20 degrees cooler in San Francisco. Summers are warm, dry and sunny; winters are cool and damp with occasional freezes. The Lafayette Reservoir is located in the southwestern part of the city, and Briones Regional Park reaches into the northern part, both providing hiking trails. 
Similar to neighboring Orinda, Lafayette is split by California State Route 24 and the Bay Area Rapid Transit (BART) train line which run east-west through the valley into San Francisco.  With its restaurants and shops, Lafayette is considered the retail center of Lamorinda.  Visible from the highway and BART are the crosses of Lafayette, a hillside covered with white crosses memorializing US soldiers who have died since the start of the Iraq war. At last count, there were some 6,000. 
Known for the high quality of its public schools, Lafayette has four elementary schools: Lafayette, Burton Valley, Happy Valley and Springhill.  They feed into Stanley Middle School and then Acalanes High School, one of the top-ranked districts in the state.